At Experian, one of our priorities is consumer credit and finance education. This post may contain links and references to one or more of our partners, but we provide an objective view to help you make the best decisions. For more information, see our Editorial Policy.
Discover offers two similar credit cards for students. Neither has an annual fee, and both offer cash back rewards. The Discover it® Student chrome may be a better fit for students who commute to school or live off campus, as it offers bonus cash back at restaurants and gas stations.
Discover it® Student chrome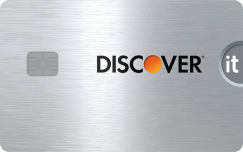 Apply
on Discover's website
Recommended FICO® Score☉
Fair, New to Credit
12.99% - 21.99% Variable
Intro APR: 0% on Purchases and 10.99% on Balance Transfers for 6 months
2%
cash back on Gas Stations & Dining
1% cash back on All Other Purchases
Intro Bonus: Dollar-for-dollar match of all cash back earned the first year
Card Details
INTRO OFFER: Unlimited Cashback Match – only from Discover. Discover will automatically match all the cash back you've earned at the end of your first year! There's no minimum spending or maximum rewards. Just a dollar-for-dollar match.
Earn 2% cash back at Gas Stations and Restaurants on up to $1,000 in combined purchases each quarter. Plus, earn unlimited 1% cash back on all other purchases – automatically.
Good Grades Rewards: $20 statement credit each school year your GPA is 3.0 or higher for up to the next 5 years.
No annual fee. No late fee on first late payment. No APR change for paying late.
Get 100% U.S. based customer service & get your free Credit Scorecard with your FICO® Credit Score, number of recent inquiries and more.
Freeze It® on/off switch for your account that prevents new purchases, cash advances & balance transfers in seconds.
Get an alert if we find your Social Security number on any of thousands of Dark Web sites.* Activate for free.
0% intro APR on purchases for 6 months, then the standard variable purchase APR of 12.99% - 21.99% applies.
Pros
Cons
No annual fee and few other fees

Discover

isn't as widely accepted as Visa or Mastercard
Bonus cash back at restaurants and gas stations
Quarterly cap on bonus earnings
Extra rewards-earning possibilities
Potentially high interest rate
Free credit- and identity-monitoring tools
Almost no bank branches
Customer service contact info for

Discover




Discover

Financial Services

800-347-2683

P.O. Box 30943

Salt Lake City, UT 84130-0943
Experian Review
The Discover it® Student chrome offers multiple cash back rewards opportunities and few fees. It's a good starter card for new students, and worth holding on to after you graduate: Discover will reclassify the card as a non-student card, but you will keep many of the same benefits.
Bonus Cash Back at Restaurants and Gas Stations
The Discover it® Student chrome is a tiered cash back rewards card, and your rewards depend on where you make a purchase.
Earn

2%

cash back on the first $1,000 in combined purchases at gas stations and restaurants you make each quarter.
Earn

1%

cash back on all other purchases.
The bonus rewards categories could make the card a good fit for students who live at home and commute to school, or who live in off-campus housing. If you spend more than $1,000 on those categories each quarter, however, you may want to look for a cash back card that doesn't have the rewards cap.
Also, for those who don't drive or live on campus, the Discover it® Student Cash Back may be a better fit. It offers many of the same benefits, but different bonus rewards. Rather than 2% at gas stations and restaurants, you can earn 5% bonus cash back on your first $1,500 in purchases each quarter in a rotating list of bonus categories.
Extra Cash Back Opportunities
In addition to earning cash back rewards from your purchases, Discover offers additional rewards to cardholders.
A $20 statement credit for good grades: For your first five school years with the card,

Discover

will give you a $20 statement credit if you have a GPA of 3.0 or higher.
Additional offers: There are also offers that don't automatically come with the card, but occasionally pop up. For example,

Discover

may temporarily increase the cash back rate on select purchases, or

Discover

and Amazon may team up to give you a discount if you redeem your cash back by making a purchase on Amazon.com.

Discover

's cash back match: For new cardholders, at the end of your first year with the Discover it® Student chrome,

Discover

will match all the cash back you earned during your first 12 months.
You can redeem your cash back in several ways, such as by depositing the amount into a linked bank account, receiving a statement credit on your credit card or using it to pay for purchases at partner stores.
Most redemption options start at 1 cent. The one exception is if you want to redeem your rewards for a gift card, in which case you'll need at least $20 in rewards—but you also get a gift card that's worth at least $25.
No Annual Fee (and Few Other Fees)
For many people, a student credit card will be the first card they apply for and manage on their own. The Discover it® Student chrome could be a good starter card because you won't need to worry about many fees.
No annual fee: There's no fee to open or keep your card. Cards that have annual fees tend to be premium rewards cards or for people who are rebuilding their credit.
No foreign transaction fee: Some cards charge a fee for transactions that happen outside the U.S. or in foreign currencies. Having a card without this fee could be helpful when you travel or study abroad.
One late payment fee waiver:

Discover

won't charge you a late payment the first time you miss a payment. The waiver can be helpful—mistakes happen—but you want to get into the habit of paying off your credit card in full and on time every month to avoid fees and paying interest. Keeping balances low and always paying on time will also help you begin building credit.
No penalty annual percentage rate (APR): Missing payments can also lead to a higher interest rate, called a penalty APR. You don't have to worry about penalty APRs with this card. But, again, try to pay your bill in full and on time each month. Otherwise, your purchases could start to accrue interest or ding your credit.
No overlimit fee: Credit card issuers used to let you go over your credit limit and then charge a fee. There's no overlimit fee on this card, but

Discover

also might not let you make any more purchases once you reach your credit limit.
While this card charges few fees, there are a couple to be mindful of; for example, after your first late payment (the fee on that one is waived), you can be charged a fee of up to $40 per late payment. You may also need to pay a fee if you use your card for a cash advance.
Meeting the Discover it® Student chrome Requirements
While student credit cards tend to be easier to qualify for than general credit cards, you will need to meet Discover's requirements. To start, you have to be at least 18 years old and have a U.S. address and a Social Security number.
The federal Credit CARD Act of 2009 also requires anyone who is under 21 years old to have proof of independent income to get a credit card—but that doesn't mean you need to have a full-time job. Income from a part-time, work-study or summer job counts. You may also qualify if your parents regularly send you money.
If you're 21 or over, you still need proof of income to get the card. The main difference is you can now use a household member's income on your application, if you can use their income to pay your credit card bills.
Using the Discover it® Student chrome
Once you get the Discover it® Student chrome, you can manage your account online and using Discover's iOS or Android mobile app. From there, you can review your current balance, check your rewards and make payments. You can also set up text and push notification alerts from the app to help you track your card.
If you'd prefer to meet with a banker in person, a Discover card might not be the best option because the company only has one bank branch in Greenwood, Delaware. However, Discover does have an entirely U.S.-based customer service team, and it offers programs that can make using your credit card, monitoring your credit and tracking your personal information easier:
You can quickly see the recurring bills or subscription charges on your

Discover

credit card.

Discover

will send you an alert if it notices suspicious activity on your credit card or in your credit report.
You can use the app to lock and unlock your credit card, which can be helpful if your card is lost or stolen.
You can use your card at select retailers to request up to $120 in cash back and the transaction will count as a purchase rather than a cash advance.

Discover

can monitor the dark web for your personal information.
The Discover it® Student chrome can also help you establish or build credit. Your account will be reported to the three national consumer credit bureaus (Experian, TransUnion and Equifax) and appear on your credit reports. Making your monthly payments on time and only using a small portion of your card's credit limit are important to building good credit.
Additional Info
Purchase APR:

0%

for

6

months after account opening, then

12.99% - 21.99% Variable

Grace period: 25 days
Transfer APR:

10.99%

for

6

months from date of first transfer for transfers posted by issuer deadline (see Rates & Fees on issuer page for details), then

12.99% - 21.99% Variable

Annual fee:

$0

Cash advance APR:

24.99%

Variable
Balance transfer fee: Intro fee of 3% of the amount of each transfer that posts to your account by issuer deadline (see Rates & Fees on issuer page for details). After that,

5%

of the amount of each transfer.
Minimum interest charge: $.50
Cash advance fee:

5%

(

$10

minimum)
Foreign transaction fee: None
Late payment fee: None the first time, then up to $40
Returned payment fee: Up to $40
Authorized-User Policy
There's no fee to add someone as an authorized user to your card, although the person will need to be at least 15 years old.
The authorized user will receive a credit card that's tied to your account. When they use the card, the purchases will get added to your total balance. While you'll earn rewards from those purchases, you are also legally responsible for the entire account balance—not just the portion from your card.
You may have an agreement with the authorized user that they help you with the bill. But if they don't follow through, you're still responsible for the bill and any resulting fees or interest.
Is This Card Right for You?
With its rewards, limited fees and benefits, the Discover it® Student chrome could be a good option for many students. It can be particularly appealing for students who live off campus and regularly drive or eat out at restaurants. If that doesn't describe you, the other Discover student card (or a student card from a different credit card company) may be a better fit.